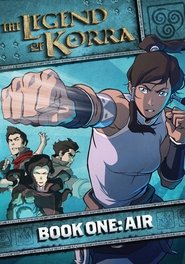 The Legend of Korra: Season 1
Book One: Air (气) is the title of the first book of the first season of The Legend of Korra, created by Michael Dante DiMartino and Bryan Konietzko. The nomenclature refers to the Avatar Cycle: water, earth, fire, and air. The primary focus of the season is Korra's attempts to learn airbending from Tenzin while defending Republic City from the Equalist revolt, led by the masked Amon.
The season began on March 24, 2012, with the online airing of "Welcome to Republic City" and "A Leaf in the Wind", and ended at twelve episodes on June 23 of that year with "Skeletons in the Closet" and "Endgame". It was followed by Book Two: Spirits, which began airing on television in September 13, 2013.
Episodes